About us


OUR STUDIO UPHOLDS THE HIGHEST
LEVELS OF PROFESSIONALISM
Our artists treat their job with inspiration
and creativity, regularly finding unique
and interesting solutions.
We are able to realize any task thanks
to broad expertise and ongoing innovative
technology training.
GRAPHICS
We create graphics of any complexity. Our designers are ready to prepare a simple "background" for a birthday or anniversary, and to arrange a major international show or concert.
There are experts among us who will think and then will write for you the scenario of your unique action. For your company, we will create a brand hero - a corporate character that can improve communication between the company and the consumer.
In the shortest possible time we will develop a corporate identity for your brand.
DESIGN
Our specialists are ready to create visualization of interiors, architectural objects and environments, texturing, static renders, lighting and showreel concepts. We can help you design the packaging for your product, develop and create illustrations for your books, brochures, posters (2D, 3D).
ANIMATION
We create animated 2D videos and 2D infographics, 3D videos, 3D character models, sculpting, rigging, model of an architectural object.
Portfolio

graphics • design • animation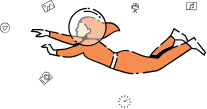 Latest news